Limousine Service Buffalo Grove
Beautiful and welcoming all year round, the Village of Buffalo Grove has always been a desirable place for living and visiting. With its paths for walking, jogging and biking, interesting festivals, fine golf courses and many other hidden gems, this northern suburb of Chicago has become a popular destination for many SUV Chicago Limo customers and we are happy to note an increase in the number of rides to and from Buffalo Grove, IL.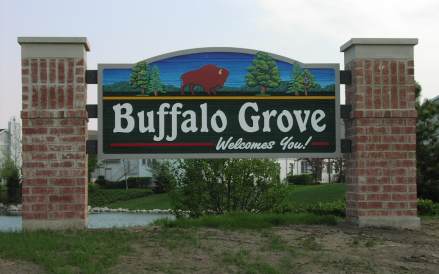 SUV Chicago Limo can provide a reliable and affordable limousine service at any time to and from Buffalo Grove. Enjoy our spotless vehicles, drivers with positive attitude, safe manner of transportation and reasonable prices by booking with us. You can do get instant price check or call us at 312-806-1074.
Limo service to O'Hare or Midway Airport from Buffalo Grove, IL
SUV Chicago Limo provides excellent limousine service between any major airport in the state of Illinois, Wisconsin, Indiana and Michigan and the Village of Buffalo Grove. Our convenient and simple online booking system gives you the chance to book your trip within 2 minutes and simply enjoy our professional limo services. An experienced driver will pick you up on time and give you a pleasurable ride to your destination.
Typically the ride between Buffalo Grove and O'Hare International Airport takes 22 minutes without traffic via I-294S. Our chauffeurs always have the most updated information about the traffic conditions in Chicago in order to transfer you from point to point in the best possible way.
The distance between Buffalo Grove and Midway International Airport is 46.5 miles via I-294S. We give the right to our guests to choose a different route and give directions in case they want to have a ride with a scenic view or want to make an additional stop between the airport and Buffalo Grove.
Limo service between Buffalo Grove and Chicago Loop
Going out for a party in Downtown Chicago or coming back from busy day at work in the city, SUV Chicago Limo is one phone call away after which you will have the pleasure to be driven in style by a professional driver in a luxurious limousine where you can relax and feel special. With our sedan, SUV and stretch limousines, we can take care of single travelers as well as bigger groups of people.
The distance between Chicago and Buffalo Grove is 34 miles and the trip takes no longer than 50 minutes.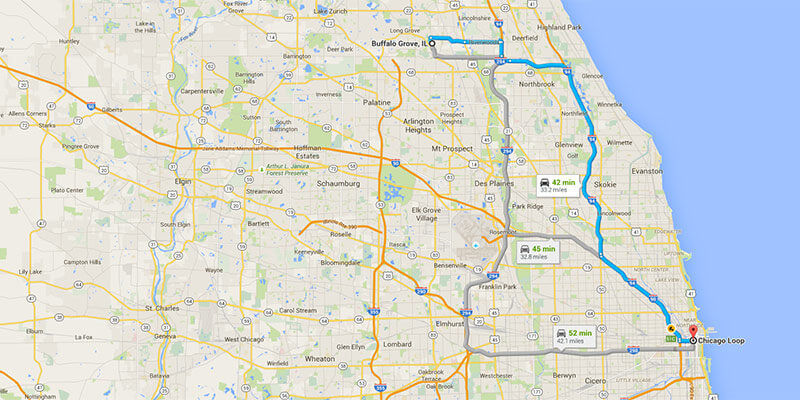 How much does it cost to get from Buffalo Grove to Chicago?
Our prices depend on several factors like the distance from one location to another, the type of vehicle you choose, the type of service, etc. If you choose our point-to-point limousine service, the rate will depend on the distance. If you choose the hourly service, the rate will be formed according to the number of hours you are planning to use the limousine.
The easiest way to find out what is the fare from Buffalo Grove to Chicago is to check our online booking system. There you can see the rates from/ to Buffalo Grove to/from different locations for any type of vehicle and make your reservation with us.
If you need SUV Chicago Limo to take care of a special event like a wedding or prom, we would suggest giving us a call so we can plan the event according to your needs and budget. Our operators are professional, kind and always helpful and many times they exceed our customers' expectations by arranging unforgettable limo service for their special day.
Attractions in Buffalo Grove
The oldest building in the Village of Buffalo Grove is Saint Mary's Church, completed in 1899. Another attraction is the Raupp Museum which is the town's museum of local history. Located around the downtown area, there is the Buffalo Grove Town Center which is a major shopping and retail destination. In the same area are situated the Buffalo Grove Theaters and Escape – a popular venue that hosts birthday parties and other special events.
Buffalo Grove is a proud host of the Invitational Fine Arts Festival in July and the Buffalo Grove Days festival in September. The festivals usually attract not just Buffalo Grove residents but also guests from different parts of the state. Don't miss the Farmer's Market during the summer where you can find fresh fruits, vegetables, plants and flowers and also meet new friends.
More information about our suburban limo services
If you need a luxurious limousine service to or from Buffalo Grove or any other suburb in the state of Illinois, please check our online booking system or call us at 312-806-1074 and we will provide you with any information you need about your trip. For stretch limo requests – please check for availability. Whenever and wherever you care to go in and around Chicago, call SUV Chicago Limo and reserve your luxury, safe and comfortable limousine.