Limousine Service Champaign
Despite the fact that our society tries to grow more and more tolerant, one thing still hasn't changed – the tendency for people to judge others by their appearance. No matter how much we want to deny it, every person, who has ever had business relations or has served in the marketing department of their company, knows the importance of presentation. SUV Chicago Limo also understand the necessity of establishing yourself as a person of significance and consequence, which means that no part of your personal presentation should be neglected and that includes the vehicle that drives you around as well. Even if you just want to enjoy a fun ride around the city, you can still get a stylish vehicle for entertainment with your friends.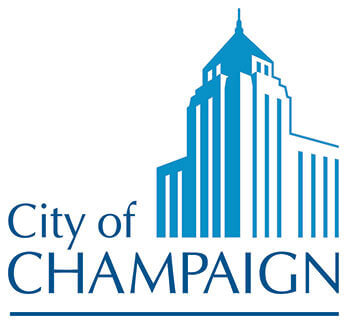 Make the right choice – SUV Chicago Limo
We've already brushed on the significance of presenting oneself in a professional, businesslike manner, but there is one thing of equal importance when it comes to relations as well – that is how you handle the relationships with other businesses and clients. Many companies seem to neglect that aspect of their business, but SUV Chicago Limo knows how important it is. So we strive to provide a service of high quality, which ensures your experience to be a pleasant one. We have a policy to hire only experienced drivers, who know when to remain silent and when to speak. You can be sure that you won't be bothered by your driver. In order to maintain the quality of our service, we offer 3 different types of vehicles, each being able to suit different clients' needs. Our entry service is a 3-person sedan, which is still clean and stylish, but most affordable of all. The 7-person SUV is our most presentable, serious and businesslike choice. The final choice is a classic, timeless stretch limousine which can suit up to 8 passengers.
Professional limo service to O'Hare and Midway airports
It should be no surprise that one of our most booked services is a point-to-point service, which usually is a drive to or from an airport. We of course serve major cities, but we are not limited to them only. We also cover smaller cities and suburbs. Our service extends to Champaign as well, in order to make certain that you have the choice to pick a presentable and professional looking transport. Be sure to make your reservation earlier, so that you can be certain of your ride.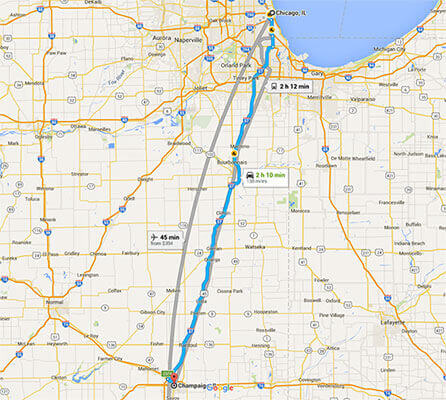 How long is the trip between Chicago and Champaign?
Depending on the traffic conditions and weather as well, the length of the trip may vary. Usually it is between 2 hours and 15 minutes, to 2 and a half hours, which again depends on the route taken as well. Our drivers are suited to pick the best route as they are always informed of the conditions on the road. However, we also let our clients select a route to their liking, although it is possible that this will result in an addition to the final price, depending on how many miles longer the trip ends up being.
What is the cost of such a trip?
The answer to this question is not simple. There isn't one uniform price which covers every service, so we can't say a single price. However, we offer an online registration form, which takes into account all the different factors, which are included in the final price. By using it you can be sure that the price given there is accurate and is tailored to the selected service.