The Village of Glenview is a beautiful suburb in the state of Illinois located 20 miles north of Chicago downtown. Many of the major U.S. corporations have their facilities and offices in Glenview which is a reason for many employees to make a business trip to Chicago and to other U.S. cities. From SUV Chicago Limo we are proud to be able to offer our service to those businessmen who need an airport and other transfers and also to meet the needs of the local resident who need a safe ride on the territory of Illinois. While the number of airport transfers from and to Glenview takes the lead in our statistics, we are happy to notice that more and more people find out that the modern limo service is an affordable way to be driven in style for any kind of occasion. And we are here to prove that to you!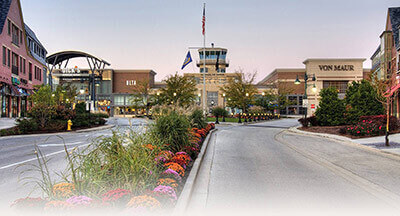 We are company which provides luxurious limousines for your business travels, airport pick up and drop-off and events like weddings, proms, birthdays, bachelor parties, concerts and other special moments. Our rates are not higher than the standard ones for this kind of service and always fit your budget.
Limo service to/from O'Hare or Midway Airports
The shortest way to reach O'Hare International Airport from Glenview is via US-14W/W Dempster St. and I-294S. The distance is approximately 11 miles. If you want to avoid the boring highway, you can choose to get to the airport by taking N Waukegan Rd where the distance remains the same but instead of 25-30 minutes you will travel 35-40 minutes.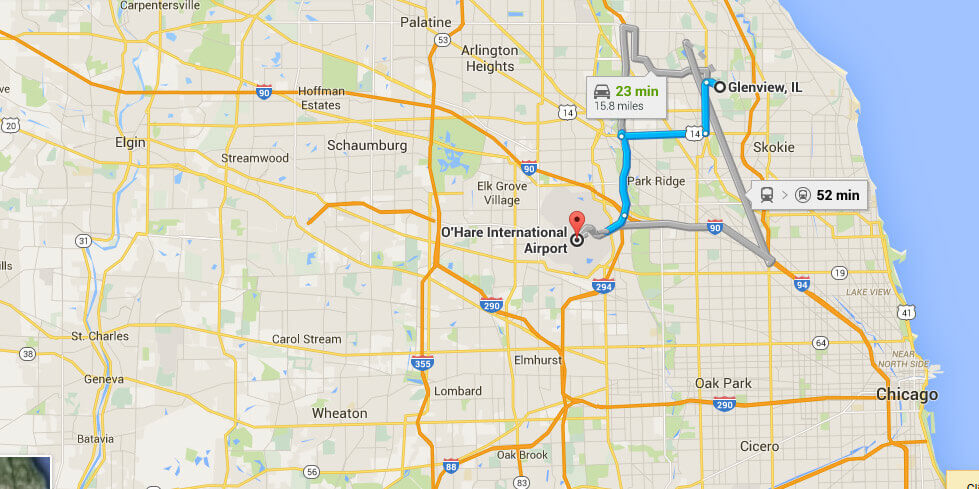 In order to make your ride from Glen to O'Hare more comfortable and pleasant, We provide you with water, mints and newspapers/magazines. Our drivers are always on time and ready to help you with your luggage, open the door for you and give you a ride to remember.
If you need an airport transfer from the Village of Glenview to midway International Airport, you are going to need between 40 and 50 minutes, depending on the traffic. The usual route is via I-94E. However, our drivers have updated information about the road and weather conditions and will let you know if the trip will take longer or if they need to change the route in order to avoid a delay.
Many businessmen and women enjoy our limo services and their compliments are our biggest prize which makes us even more determined to serve professionally and make our guests happy. If you need a ride from Glenview to Midway International Airport book now and let us show you what accuracy and professionalism mean.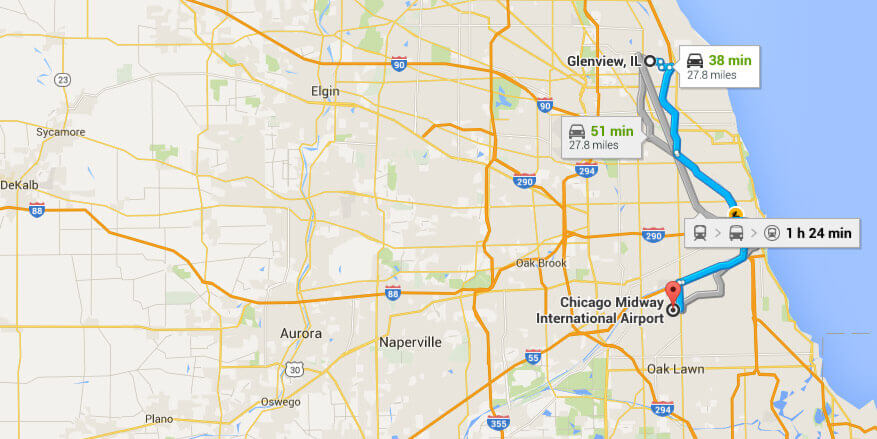 How much does it cost to get from Glenview to Chicago Loop?
Our prices depend on several factors like the distance from one location to another, the type of vehicle you choose, the type of service, etc. If you choose our point-to-point limousine service, the rate will depend on the distance. If you choose the hourly service, the rate will be formed according to the number of hours you are planning to use the limousine.
The easiest way to find out what is the fare from Glenview to Chicago is to check our online booking system. There you can see the rates from/ to Glenview to/from different locations for any type of vehicle and make your reservation with us.
If you need SUV Chicago Limo to take care of a special event like a wedding or prom, we would suggest giving us a call so we can plan the event according to your needs and budget. Our operators are professional, kind and always helpful and many times they exceed our customers' expectations by arranging exceptional limo service for their special day.
Attractions in Glenview, IL
Popular attractions are The Grove and The Wagner Farm. The Grove covers 123 acres of prairie and includes historic buildings and nature trails. It is listed on the National Register of Historic Places. The Wagner Farm is a historic working farm which is open to the public for recreation and learning. By visiting the farm you can enjoy driving a tractor, horseback riding or learn about where the food we eat comes from.
"The Park" is a popular neighborhood which exists since the village was incorporated in 1899. That makes the neighborhood one of the oldest ones in the area. The Park is interesting with its oval design, and it is considered to be a home of the religious society in the village.
The Naval Air Station was a major facility for many years but closed in 1995. Nowadays, the 1,121-acre piece of land contains new homes, new shopping centers like the Glen Town Center, walking and biking trails, two golf courses, a lake, soccer fields and a museum. It is called "The Glen".
More information about our suburban limo services
If you need a luxurious limousine service to or from Glenview or any other suburb in the state of Illinois, please check our online booking system or call us at 312-806-1074 and we will provide you with any information you need about your trip. For stretch limo requests – please check for availability. Whenever and wherever you care to go in and around Chicago, call us and reserve your luxury, safe and comfortable limousine.