Limousine Service Joliet
Whenever occasions come up when you are in need of luxurious and presentable transport, which can put the spotlight on you and your professional looks, be sure to trust SUV Chicago Limo for impeccable service. Even if you just want to have a nice look around the city with personal transport in a more impressive fashion, you can always rely on our hourly services. SUV Chicago Limo will take care of your presentation.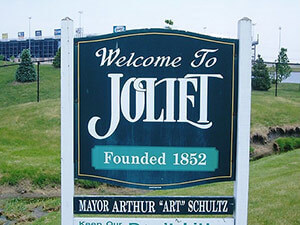 The right choice is SUV Chicago Limo
Personal presentation of professionalism in a respectable fashion is what stands between people treating you as VIP or just another person. In this day and age looks are important no matter how hard we try to deny it. SUV Chicago Limo understands that importance and provides you with the necessary luxurious transport, which will truly help you maintain such a professional image. Our vehicles are always clean, our drivers are professional, polite and discreet. Such things are the difference between a nice ride and a bothersome, irritating experience.
You can choose between 3 main types of vehicles – a smaller one, sedan, for up to 3 passengers, which is still luxurious and presentable; a bigger one, SUV, which is often the vehicle of choice for many and serves up to 7 people; and our most luxurious and classic choice – a stretch limo for up to 8 passengers.
How much time does it take to travel between Chicago and Joliet?
In order to give you a more accurate estimate of the time necessary to travel between Chicago and Joliet, we have to consider many things. A usual ride will take about 50 to 60 minutes, depending on traffic, with a comfortable speed. Keep in mind that this is the usual length and traveling from or to different points in the city will add more time. We advise you to use the reservation form or give us a call for a more accurate estimate. The route our drives take is I-80 W and then I-57 S from Chicago to Joliet, but if you have a different route in mind, don't hesitate to request it. This usually prolongs the trip. Our drivers may also suggest different routes if heavy traffic is being reported on the usual one.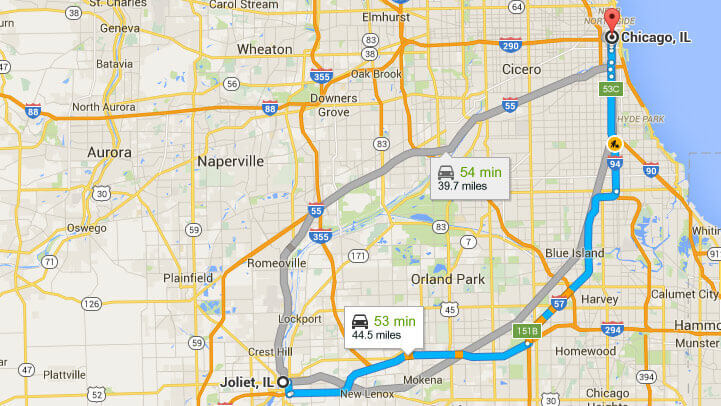 How much does it cost?
We tailor our services to meet the client's specific needs and a single all-around price cannot be given. This is because many factors have to be considered in order to give you an accurate estimate of the price. We can assure you, however, that our prices are among the most competitive and tempting in the area of Chicago. You can use our online reservation form for a more accurate estimate. We provide point-to-point trips as well as an hourly service for every different type of vehicle. If you request different stops along the way, they will have to be factored in the price. However, we strive to provide the best service, with no hidden fees and arbitrary price increases.
Reasons to visit Joliet
There are several local landmarks among which are the Historical Museum, Route 66 Visitors Center and the Chicagoland Speedway. There is also a theater and casinos. There are some interesting buildings, with some history to them. Joliet is an interesting place, which can keep you occupied for many days if you need and is certainly worth visiting.