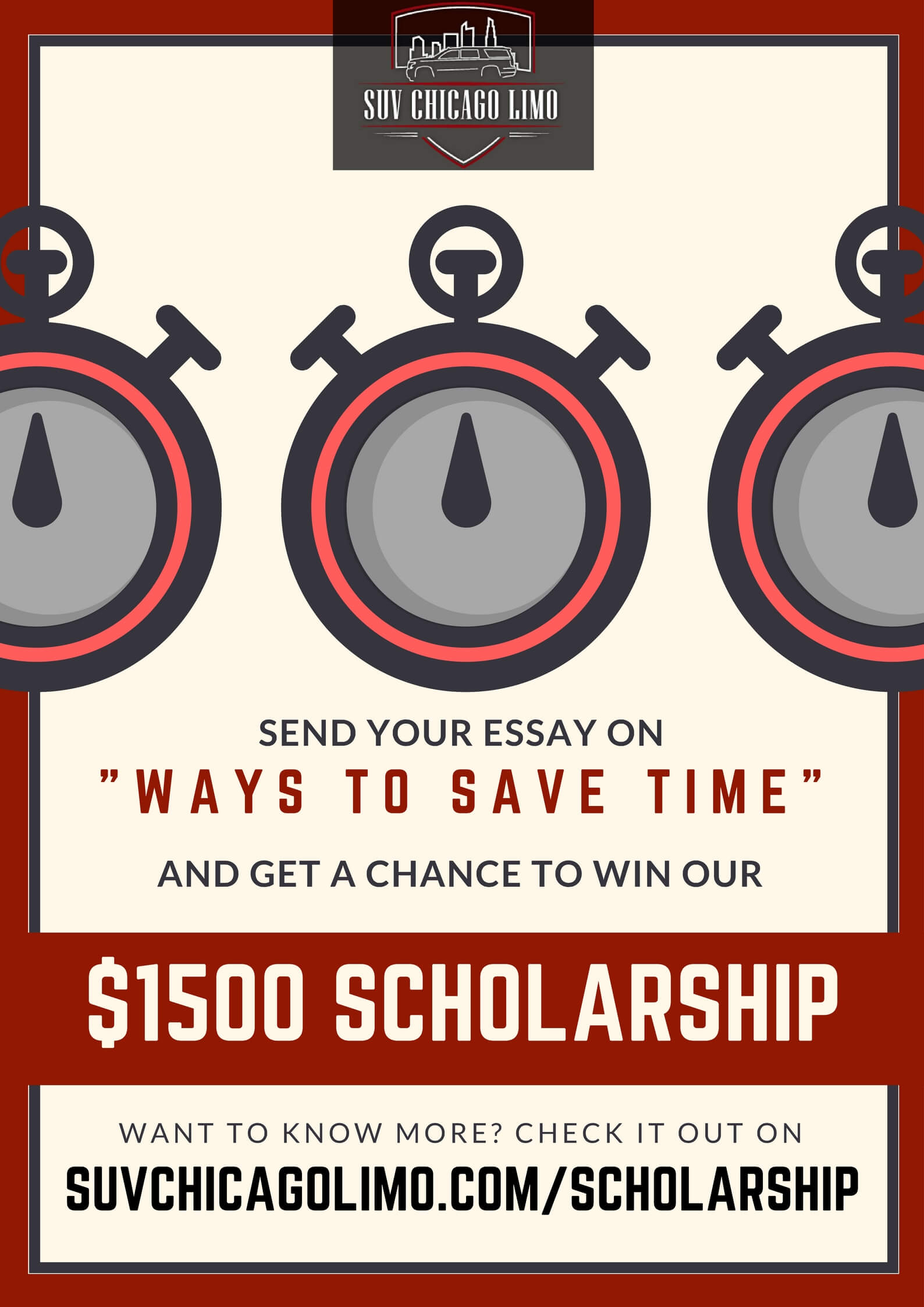 SUV Chicago Limo provides top-notch driving services to our customers with a variety of options from our luxury SUV, sedan and stretch limousines. We have professional drivers to make luxury rides within Chicagoland comfortable, safe and stress-free. Our main services are:
Much as we are dedicated to our clients, we are also devoted to helping students all over the world. Every single year, our company gives away $1500 worth of scholarship to one worthy student.
Interested? The application is absolutely free. Just follow our simple WSW steps:
WRITE
Just like in the past years, we require each applicant to send a 1,000-word essay. While the theme varies, our criteria for judging is the same every year: content, style, clarity and how engaging the essay is.
For this year, we want the applicants to discuss "Ways to Save Time". The essay should have the student's tried and tested time management practices that allow him/her to not only have time for school requirements but also for fun and relaxation. You can be as creative as you want in writing your essay. Remember that it's important to catch our attention with your content and writing style.
SEND
Save your essay in a pdf format and email us at scholarship@suvchicagolimo.com before March 31, 2018. Make sure that your email contains the following important requirements as well:
Simple Biography
Enrollment Card/Slip from your school
Basic Personal Info
WAIT
Wait for our announcement of the winner at suvchicagolimo.com/scholarship on March 31, 2018. We will also inform the winner through the submitted contact details. The $1,500 check will then be sent to the school of the winner.
Terms:
Winners of the SCL Scholarship for the past 3 years are not allowed to join this year.
We will not accept any plagiarized essays.
Sending your essay means you are authorizing us to post your work on our website. (Last year's winning essay will be posted soon!)