O`Hare airport is one of the busiest airports in the world. The terminals for pick up are Terminal 1, 2, 3 (domestic flights) and Terminal 5 (international flights). We monitor 24/7 all arrivals to O'Hare airport. There are 2 types of limo service we offer:
– Curbside pick up
Meet the driver at lower level – middle island of Terminal 1, 2, 3 (domestic flights) and first lane of Terminal 5 (international  flights) Once your plane lands, you will receive a text message from your chauffeur with instructions for the pick up. Most of the time the chauffeur needs 6-10 min to pick you up from the terminal. Sometimes (for example Thursday, Friday and Sunday night) it may take longer because of the big amount of arrivals at the airport and traffic from the limo staging area to the terminals.
– Meet & Greet ($20)
Your chauffeur will wait for you with a sign with your name at the baggage claim or the main escalator at Terminals 1, 2 and 3. For the international flights – Terminal 5, exit A or B.

---
O'Hare International Airport Chicago (ORD)
Are you planning on flying from O'Hare International airport in Chicago? Maybe you're flying to O'Hare, either way – why not read up on some information about the airport, and our fantastic limo services! It will help make your trip so much easier, and reduce the stress highly – so make yourself a nice cup of coffee, and get dug into this article.
If you want to book a limo to O'Hare airport, just contact us. We are one of the best-rated limo companies in the whole of Chicago, and all our drivers have plenty of knowledge of O'hare Airport, and can drop you off at whichever terminal you need to be at. We also offer a limo service to and from O'Hare airport, where we can pick you up from the airport in Chicago and take you wherever you need to be.
Our limos are some of the most luxurious limousines you will ever have the pleasure of riding in, why not make your trip extra special with a limo ride?
If you would like more information about our limousine services,
just give us a call: 312-806-1074,
or simply email us at info@suvchicagolimo.com
We will be happy to help you with all of your inquiries, and make a reservation for you.

Ready to go?
If you have ever visited this magnificent airport in Chicago, you will know it is extremely large. Within this section of the article, we'll discuss some of the most important facts, and amenities and services within the airport. After all, if you arrive early – there are plenty of shops, and eateries to satisfy even the pickiest of people.
Food Outlets and Eateries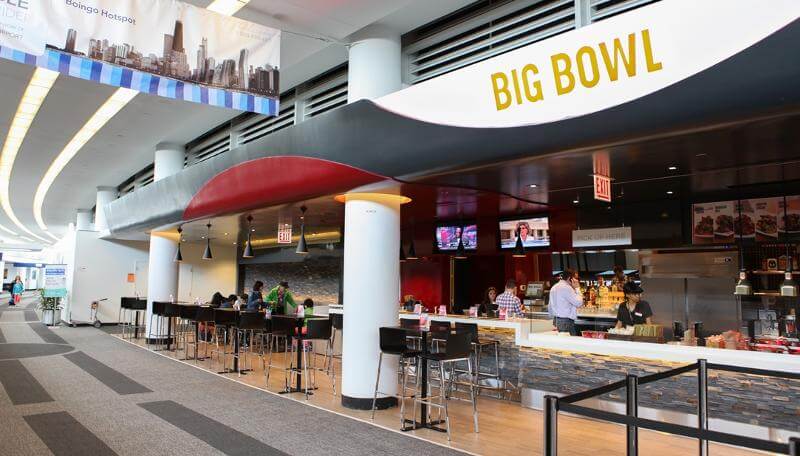 I'm sure you will be quite amazed to hear that the airport has over 60 restaurants, cafes, and fast food outlets across the four terminals. Regardless of which terminal your flight is from, or where you arrive – you are sure to find the perfect food outlet for you and your friends. With popular outlets such as:
McDonalds
Subway
Starbucks
R.J Grunts Burgers
Salad Works
Skyscrapers Bar
Skybridge Bar and Grill
Fresh Markets on the Go
Farmer's Market
Macaroni Grill
The outlets listed above are only the tip of the iceberg. You seriously have to visit ORD to understand the vast range of cuisines that are on offer to you. Many are restaurants, which offer table service – just as if you were dining out at your favorite local restaurant.
You can be sure you'll never be hungry while at ORD in Chicago.
Interesting Facts
In July of 2016, over 76000 air vehicles landed, or took off from the airport. This is a lot of air activity! However, this isn't unusual for O'Hare. After all, they have four terminals to make sure they can accommodate all of the air traffic.
There are 189 separate gates in total!
ORD has a large car park which can accommodate up to 22,837 vehicles! That's a lot of space, for a lot of cars. After all, O'Hare is a colossal, and busy airport.
Their transit system which runs between terminals and parking lots can move 2,400 passengers per hour, which is a lot. That's 40 passengers every minute! It features over 2.7 miles of elevated tracks, which connect all of the terminals and parking lots together, making your experience less stressful, and less tiring.
Events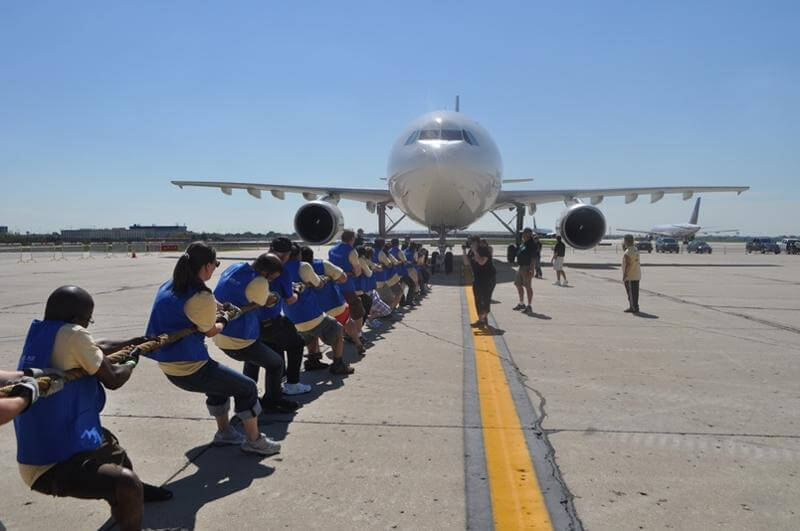 ORD isn't like any other airport. They offer a whole lot more than just flights! Here's an idea of the most exciting events within the airport:
Plane Pull: This was an event which took place on 10th September. However, it does happen often. This is where a team of ordinary people, just like you, work together and attempt to pull a large passenger jet down the runway. This may sound unbelievable, and for many airports it is – but this one is just that little bit different. This is just one of their interesting events which take place each and every year, bringing the local community – and guests from afar together, to unite as one team.
5k On The Runway: On September 27th, an over 3 miles run will be taking place on the runways. This is an exciting challenge which is undertaken by many people each and every time. Places are limited, though, so you are best booking your place as soon as you can – unless you want to be disappointed! It's a great challenge, and it's incredibly fun too! Why not try the challenge with your friends?
Hotels
If you're arriving at O'Hare, you'll probably want somewhere to spend the night! The Hilton Chicago Airport Hotel is situated across from Terminal 1, 2 and 3 – and is walk-able from other terminals. This is a great hotel, and we are sure you'd love to spend the night here. This is the closest hotel to the airport. However, there are a huge number of hotels near the airport.
Shopping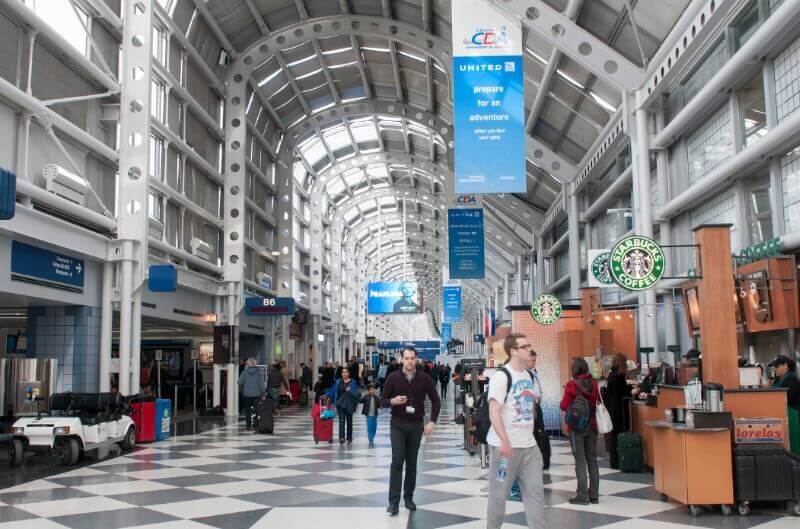 Everybody loves a good shop, don't they? The airport has all of the shops and boutiques you could ever wish for, and our vehicles has an enormous amount of room for all your shopping! With bookshops, sports stores, duty-free, and souvenir shops – there is something for everyone, and you'd be silly not to take a look around.
The vast range of shops are situated in different terminals. However some franchises and chains have a store in each terminal, such as Barbara's Bookstore and Brookstone, many shops have multiple locations in each terminal, to reduce the amount of traveling you have to do between terminals.
At the end of the day, O'Hare International Airport has all of the facilities, and amenities within the airport, or extremely close-by, to make your journey one to remember. Why not ensure it is the best trip possible by hiring a limousine to drive you around? Contact us today!