Limousine Service Glencoe
If you need a ride in style to/from the Village of Glencoe you can always trust on us. SUV Chicago limo offers limo service from Glencoe to O'Hare International Airport and Midway International Airport. No matter if you are going on a business trip or a family vacantion, we will take care of you and your family by giving you a smooth ride in a luxury late model vehicle.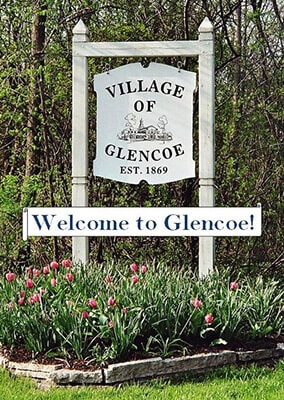 You can also book your trip with us if you are going to Downtown Chicago on a birthday party, sports event, concert or just a night out in the city. You can make your reservation on-line or by phone: 312-806-1074
Why to choose SUV Chicago Limo?
SUV Chicago Limo provides top notch limo service between Glencoe and any part of the state of Illinois and the surrounding states. Our drivers are always on time waiting for you with a smile and ready to give you a ride of pleasure and comfort. Our vehicles are fully licensed and insured by the rules of City of Chicago. By choosing SUV Chicago Limo you choose safety and comfort on affordable prices.
How long is the typical trip from Chicago to Glencoe?
The distance from Downtown Chicago to Glencoe is 25 miles north or 40 min with no traffic. Most of the time our drivers use highway 90/94 West and exit on Dundee road. Due to bad weather, closed streets or just heavy traffic, your driver may use another route to the destination. Before every trip our drivers check what the traffic looks like and choose the shortest and the fastest route to your destination. You can also choose your favourite route to the destination. Your chauffeur will gladly follow your directions.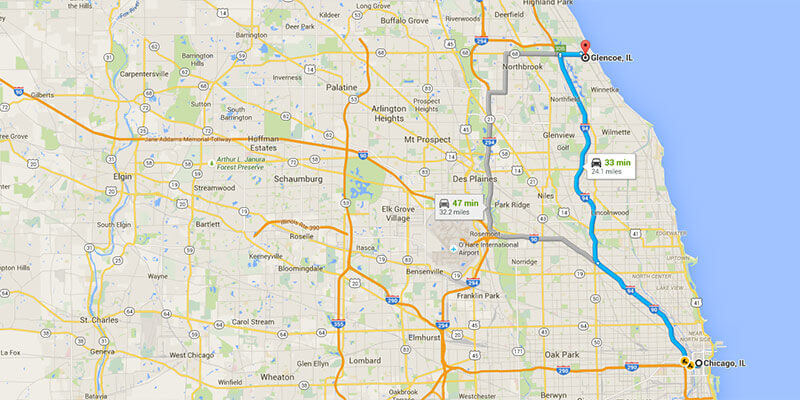 What is the cost of the trip?
Our prices are very competetive and there are no hidden fees. You can go to our easy online reservation system and put the pick up and drop off address and you will see the price for the kind of vehicle you need. There are additional charges if you want to make extra stops during the ride. Waiting time is also charged additionally (not for hourly service).
If you need SUV Chicago Limo to take care of a special event like a wedding or prom, we would suggest giving us a call so we can plan the event according to your needs and budget. Our operators are professional, kind and always helpful and many times they exceed our customers' expectations by arranging unforgettable limo service for their special day.
Reasons to visit Glencoe
Glencoe is a beatiful suburb in the state of Illinois, located by lake Michigan. It is situated 25 miles north from Downtown Chicago and 17 miles north-east from O'Hare International Airport. Attraction number one in Glencoe is the Chicago Botanic garden. The garden is open every day of the year and it is home of 2.5 million plants. With its beauty and serenity, this place brings thousands of visitors per year and makes the Village of Glencoe a very popular destination for the locals and out-of-towners.
With a reputation for excellence, Writers Theatre is another point of interest in Glencoe. It entertains its public for more than 20 years and nowadays it's a major Chicagoland cultural destination.
More information about our suburban limo service
If you need a luxurious limousine service to or from Glencoe or any other suburb in the state of Illinois, please check our online booking system or call us at 312-806-1074 and we will provide you with any information you need about your trip. For stretch limo requests – please check for availability. Whenever and wherever you care to go in and around Chicago, call SUV Chicago Limo and reserve your luxury, safe and comfortable limousine.