Limousine Service Madison, Wisconsin
From personal presentation to successful business relationships, people are always looking at the way you express yourself. A book is judged firstly by its cover, so you shouldn't skip on it. Opting for limousine services can happen for many reasons – it may be a special occasion, or you want other to understand your importance. Maybe you even want to just have a night out with friends. Whatever the reason you can count on us to provide you with the perfect ride.
We are always available
We understand how important it is to build professional relationships. Our attitude and quality of service will always distinguish us from other similar companies on the market. We cater to big clients (such as large companies and corporation) and single clients as well. Our drivers have many years of experience, and they know how to handle themselves in the company of others. SUV Chicago Limo wants you to enjoy the ride we provide.
We offer several options for vehicles, from which you can pick. Choose what suits you the best and book it for the desired date. Our services include point-to-point transfers, usually from or to an airport, but we can also charge by the hour if you so desire.
Transportation to and from O'Hare and Midway airports
This kind of service is among our most booked ones and for a good reason. People prefer to trust professional scheduled transportation, rather than taxis, as the quality of service we offer is way higher and the presentation of our vehicles is superb. If you need airport transportation to or from a suburb, village or city, namely Madison, give us a call. SUV Chicago Limo will take you right on time to O'Hare and Midway airports.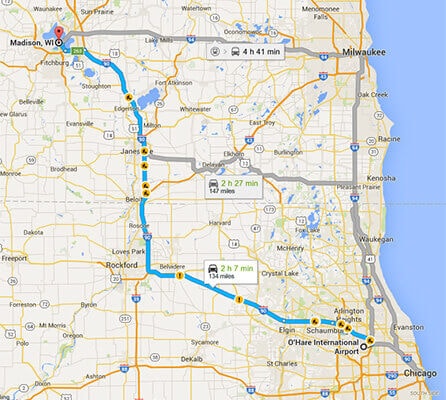 How long does it take to get from Madison to O'Hare or Midway?
Although it largely depends on traffic, a usual trip to O'Hare airport will take anywhere between 2 hours to 2 and a half hours. There are a couple of different routes our drivers may take, but if you have any preferences, you can tell your driver which route to take.
Since Midway is further in the city, a drive to or from there can take up to 3 hours if the traffic conditions are not optimal. However, our drivers are always informed, and they know which streets and routes to take in order to get you there as fast and as safely as possible.
How much would it cost?
The best way to determine the cost of your trip is by using our booking form on our website. Many factors are taken into account (such as the type of vehicle, length of trip and so on), and we cannot give you a precise estimate without the needed information. However, by using our website, you can get an accurate price and can easily book your vehicle for the day that you desire.