We offer our services in the states of Illinois, Indiana, and Wisconsin. The need of professional transportation is on the rise, and we have what you need. It doesn't matter if you want chauffeured services for weddings, proms, business occasions, birthday parties, sports events or any other time. Our extensive and flexible services will be the perfect fit for whatever you need. Book now and have a secure ride at the precise time you want it.

Why choose us
SUV Chicago Limo is not just a company, which offers a service. We want to provide a pleasurable experience for our clients, no matter how big or small they are. If you represent a company, which wants to use our services regularly, we can have business-to-business relationships and develop strong connections. On the other hand, we also deal with single clients for a one-time booking all the same.
We know how important it is to present people with a reliable and affordable service, which is why we strive to hire only the best people to work with you on every end of the process. Our customer support team is caring, while our drivers are polite and informed about the driving conditions.
We offer different vehicle types to suit your needs. A simple sedan for 3 people, with its cheaper ECO version; an SUV for up to 7 passengers, which looks stylish and presentable; classic stretch limousine with premium additions for up to 8 passengers.
O'Hare and Midway transportation service
Using airplane transport isn't just an option nowadays, it is a requirement. But getting to the airport is just as important as picking your flight. Don't just opt to use taxi services, as they are extremely unreliable and you can end up paying more than you think. A secure and safe professional transportation is the better alternative, that's why it is good to use our services. With us, your ride will be pleasurable, and you will be right on time for your flight. The same applies if you want transport from the airport to a point in a city, for example from Midway to Indianapolis.
Use our services for a safe ride between O'Hare or Midway airports and Indianapolis.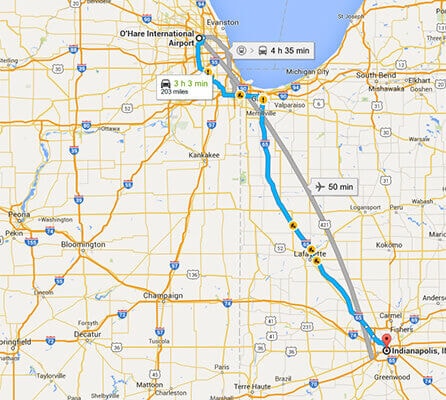 How long is the trip between Indianapolis and O'Hare or Midway airports?
From Indianapolis to O'Hare the trip is relatively long, lasting anywhere from 3 to 3 and a half hours, largely depending on the traffic conditions. Plan your trip carefully and keep in mind that traffic can change pretty quickly and without a notice.
The trip to Midway Airport takes about the same time and the same notes apply to it as well. However, it is worth noting that it may take you a bit less to get to Midway, because it is closer when coming from Indianapolis.
How much does a trip cost?
To get an accurate estimate we advise you to use our online booking form. There you will choose the type of vehicle and the kind of service, which you want to use. That in turn will give you the price of the overall trip.