Limousine Service Skokie
If you want to spend a night around Chicago, why don't you visit Skokie. Our company SUV Chicago Limo will help you with providing you the best limousine service. We operate with luxury SUV, sedan and stretch limousines. Our transportation is not only comfortable and fast, but also the most exciting way to reach your destinations.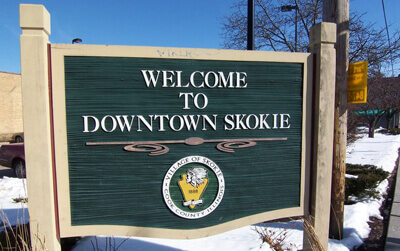 You can use our SUV Chicago Limo service for different  important occasions like weddings, proms, birthdays, different concerts and sport events including Bulls, Bears, Blackhawks, Cubs and Sox.
Why to choose SUV Chicago Limo?
If you wondering why to choose exactly our company for your trip, we will tell you. SUV Chicago Limo is the best company for limo service in Chicago and suburbs. We have a lot of advantages which make us different and more preferable than other similar companies. We operate with luxury and clean vehicles. Our professional drivers have years of experience and they approach with care and respect for every detail in their work. They are friendly, discreet and always on time. Our goal is complete satisfaction to our clients. We want to make them feel happy and comfortable. That's why we provide to our guests water, mints and magazines during every ride. And that is not all. Other our advantages are easy online booking and competitive prices. With SUV Chicago Limo the high quality, quickness, and professionalism is guaranteed!
How long is the typical trip from Chicago to Skokie?
Moving from downtown Chicago to Skokie usually takes about 40 minutes.The ride may take more time. It is depending on several factors such as heavy traffic and bad weather conditions. The distance between Chicago and Skokie is about 16 mile. The shortest route to Skokie is the following: I-90 W and then 39B Touhy Ave E. If you want to take some other route it will be pleasure for us to satisfied you.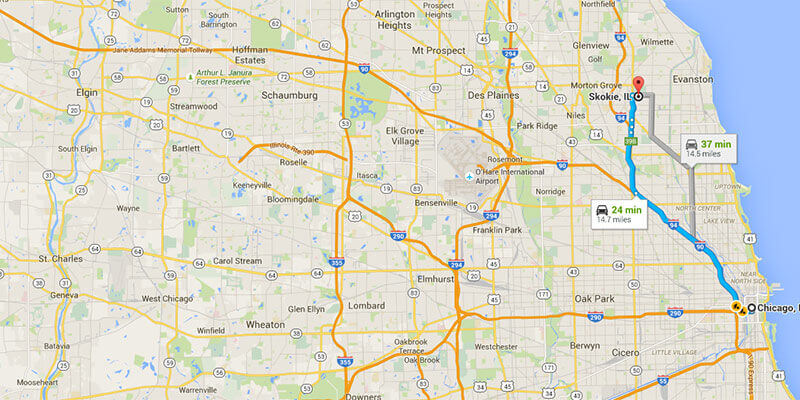 What is the cost of the trip?
SUV Chicago Limo provides the most affordable prices for professional limo service in Chicago. There are no hidden fees or taxes. If you are planning to make multiple stops before reaching the last destination, we provide you opportunity to use our hourly limo service. The minimum hours for this type of service is two for sedan/SUV and three for a stretch limousine. There is no maximum.
For more information about our prices you can call us or send us message with our online contact form.
Reasons to visit Skokie
Skokie is one of the most preferable destinations around Chicago. Тhis is not accidental. Skokie is a village in Cook County, Illinois, United States. Its name comes from a "marsh". This is the world's largest village. It has great nature. Skokie is a winner of the national "Gold Medal for Excellence" in parks and recreation management. The village district hosts the Skokie Festival of Cultures in which people celebrate the village's diverse ethnic composition. If you love arts, you cal use our limo services to visit the North Shore Center for the Performing Arts.