Limousine Service Rockford
In order for one to present himself in a more professional and business-like manner, occasions often call for special transport – one, which can emphasize seriousness and personal presentation. For such occasions you will need a service provider, with a good reputation and trustworthiness. Even if you are just looking for a nice ride so that you can have a trip around town with your friends, SUV Chicago Limo rises above others and provides you with quality of service in Chicago and many of its suburbs, Rockford included. Your ride from or to the airport can be done in style and if you need hourly services, we can arrange that as well.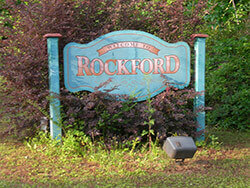 Choose SUV Chicago Limo
Not only do we offer such a high quality in the service provided by us, but we also make sure to train our drivers properly for any conditions, or we directly hire the most experienced professional drivers in the area. This makes the difference between a nice, comfortable trip and a stressful, irritating experience. SUV Chicago Limo cares about its clients and wants to make sure your experience is always perfect. There are many testimonies of our high quality service and you will surely remain satisfied. We also provide many options for the kind of vehicle that you want to drive you around the city. A simplistic sedan, a luxurious and presentable SUV or a classic limousine – the choice is entirely yours. We cater to your needs and desires, while also providing the best prices and quality in the area.
How long is the typical trip from Chicago to Rockford?
Chicago is a big city and because of that it is hard to give an accurate estimate of the time necessary to travel between the two cities. Many factors have a say in the ultimate length of the trip, but to give a rough estimate, based on basic calculations, we can say that the trip takes about an hour and 40 minutes, although this varies, depending on the destination in the city from or to which you want to travel. Our drivers are instructed to take the fastest routes, which means that if certain route has heavy traffic, which will prolong the trip, they will choose another route. The usual one takes I-90 W all the way from Chicago to Rockford. If you, however, want a specific route to be taken, just give instructions to your driver to do so.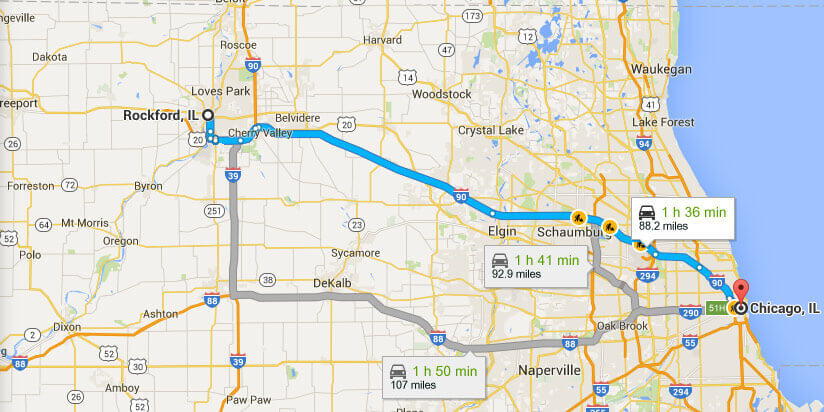 How much does it cost?
Our highly competitive prices are among the best in the entire are of Chicago and we provide only the best of quality for the price. However, as the prices can vary depending on different factors, we advise you to use our online booking form in order to get a more accurate estimate. You can choose your vehicle of choice and the kind of service which you want – a point-to-point or an hourly service. Since our services are tailored specifically to the client's needs, you will still have to consider that different stops and requested routes will add to the price. We maintain a position of honesty and integrity in our business, so there are no unexplained fees you will have to pay.
Reasons to visit Rockford
Rockford is home to many venues with significance of cultural or historical aspect. People refer to it as "the Forest City". There you can find the Anderson Japanese Gardens, Klehm Arboretum, the Laurent House, Tinker Swiss Cottage, the Burpee Museum of National History and many other notable places. Rockford sure is a nice and beautiful city to visit. You can spend many hours and even days there just visiting its various interesting locations.