Limousine Service Libertyville
Libertyville is a quiet northern village in the state of Illinois, located five miles west of Lake Michigan. This beautiful suburb attracts many visitors with its parks, outdoor activities and golf-driving range and also many students who are interested in cosmetology, esthetics and barbering because Libertyville is home of one of the best beauty schools in Illinois – Tricoci University.
SUV Chicago Limo is a regular provider of limo services to the Vernon Hills residents. We offer single rides (point to point), round trips or hourly limo service from the northern suburb to any chosen destination and also help visitors and students to get to the Village of Libertyville throughout their trips for business or pleasure. We also organize five-star transportation during weddings, proms, birthdays and other special occasions. Call us at 312-806-1074 or check your trip price instantly.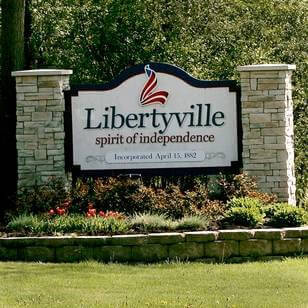 Limo service to O'Hare or Midway Airport from Libertyville, IL
SUV Chicago Limo provides excellent limousine service between any major airport in the state of Illinois, Wisconsin, Indiana and Michigan and the Village of Libertyville. Our convenient and simple online booking system gives you the chance to book your trip within 2 minutes and simply enjoy our professional limo services. An experienced driver will pick you up on time and give you a pleasurable ride to your destination.
Typically the ride between Libertyville and O'Hare International Airport takes 25 minutes without traffic via I-94E and I-294S. Our chauffeurs always have the most updated information about the traffic conditions in Chicago in order to transfer you from point to point in the best possible way. The distance between Libertyville and Midway International Airport is 53.4 miles via I-294S. We give the right to our guests to choose a different route and give directions in case they want to have a ride with a scenic view or want to make an additional stop between the airport and Libertyville.
Limo service between Libertyville and Chicago Loop
SUV Chicago Limo is always ready to make your anniversary, birthday or other special occasion unforgettable by offering you a luxurious ride from your home in Libertyville to downtown Chicago and back. With our flawless fleet of luxurious limousines, we can take care of you and your family and friends in a way that you will remember.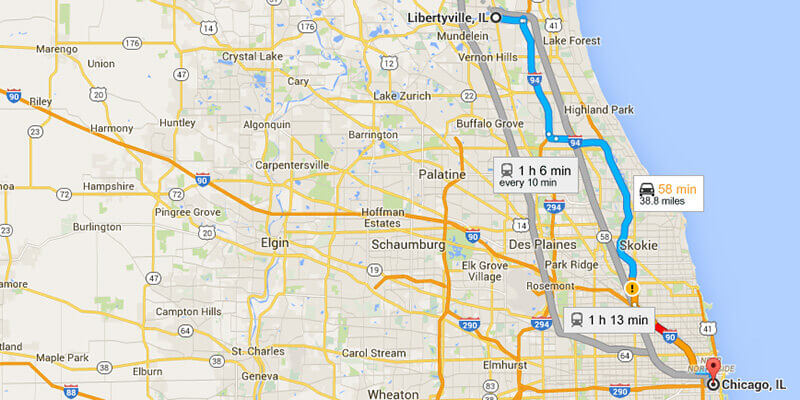 The distance between Libertyville and Downtown Chicago is 38.3 miles via I-94E. The trip takes around 45 minutes without traffic. Our drivers have updated information about the road and weather conditions and will let you know if the trip will take longer or if they need to change the route in order to avoid a delay.
What is the rate for a limousine rental from Libertyville to Chicago?
Coming back or going to the airport, celebrating a birthday or anniversary, heading to a business meeting or going to a concert – SUV Chicago Limo is the silent ally you need if you want to make your travel complete. Along with the comfort and luxury that we provide, our affordable rates are another reason for booking with us. You can verify that by using our instant rate finder which is available on the right side of the home page. This new feature to our website gives you the great opportunity to check the price of your trip before the booking. It is absolutely free and everyone can try it. If you need to know the price for one way ride from Libertyville, IL to downtown Chicago you need to go to our home page and select those two destinations from the rate finder and you will immediately find out what is the fare. If you can't find your location or have trouble using the rate finder – give us a call at 312-806-1074. We also suggest giving us a call if you need SUV Chicago Limo to take care of a special event like a wedding or prom. Our operators are always kind and helpful and will help you organize any special event according to your needs and budget.